There are plenty of things to see and do on Paros. It's the perfect place to visit with your family or friends.
For your convenience we have added a map of Paros to this page so you can see where all the activies on
Paros take place.
Just 200 meters from our hotel you'll find Logaras beach, a beautiful sandy beach with cafés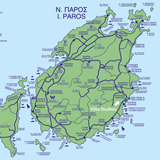 and restaurants right down by the water. Next to Logaras is Piso Livadi. Besides the restaurants,
bars and souvenir shops, this town has a charming harbor with boat routes to Naxos Island.

If you like something more upbeat, Pounda Beach (Located between Logaras and Chrisi Akti) is the place for you. There are always plenty of young people hanging out by the cocktail bars located right on this idyllic beach. At Golden Beach you can go windsurfing, kitesurfing, and even scuba diving.

If you want some time away from the beach, there's plenty of beautiful ancient monuments and archaeological sites to visit. In Parikia you can visit the famous church of Katapoliani, one of Greece's most important Byzantine monuments, impressively preserved.
Prefer going on an adventure? Well, there's plenty of hidden beaches all around the island. There are some beautiful panoramic views from the top of the mountain not far from our studios. If you're looking for a culinary adventure, we suggest you try wine tasting, or visiting one of our recommended nearby restaurants. The best places to go shop for souvenirs and clothing is in Naoussa and Parikia.

Feel free to contact us for more info. There's plenty of stuff we haven't mentioned yet, like the Aqua Park, the marble quarries, the butterfly valley, or the horse riding by the ocean. Back to the info page