Welcome to Villa Studios on the beautiful island of Paros!
Known for its traditional villages with whitewashed cubic houses,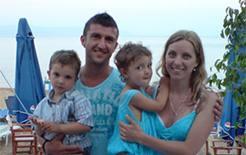 narrow paved streets and lovely chapels. The exquisite sandy
beaches with crystal clear blue waters, its rich history and
unspoiled greek atmosphere. Paros life has its own careless
and relaxing rhythm.

Villa Studios is a small greek-danish family business. We decided moving to Paros in 2010 to devote ourselves to our little establishment. We have been working hard to improve our facilities, and we're very proud of the end result we present to you. Since then we have also expanded our family, so we now have 3 kids.
Villa Studios offers studios and apartments for rent, and is situated on the eastside of Paros only 200 meters from Logaras beach. With our hospitality, warm, and friendly atmosphere we hope your stay will bring joy and good memories.
You can book one of our rooms on the contact page.

Read what our guests think about us, or write a review yourself.
We appreciate your help and support for our business.
Click here